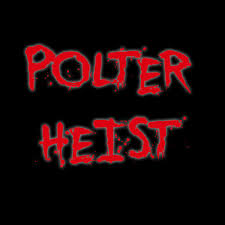 Dates:
Saturday, April 8th, 2017 – 7:30 pm
Doors open at 6:30 for some "who dunnit" hints
Tickets:
$5.  Includes show and dessert.
(Tickets are not offered online for this event.)
Take a walk on the spooky side when VTC presents Polter-Heist, an audience participation murder mystery by Tony Schwartz and Marylou Ambrose.
What can you expect from an audience participation murder mystery? Fun the minute you walk in the door!
Doors open at 6:30, when you'll get a chance to mingle with Madam Zelda Von Schpookum, Professor Lionel Specter, and other cast members as they drop hints about themselves and the show and give you a chance to ask questions. At intermission, you'll enjoy a delicious dessert buffet.
The action takes place at The Mouldering Pines Inn, where the Bogeyman Outreach Organization (BOO), a support group for ghosts, is holding its annual convention. As BOO members, you'll observe a séance, meet the Inn's ghoul-in-residence, and learn dark secrets about every cast member. Besides Madam Zelda and the Professor, you'll also meet Phyllis and Jim Lodge, the Inn's squabbling owners, Dana Skullery and Fox Smolder, from BOO's Washington, D.C., chapter (or are they?), and Garrett from Another Planet, a DJ with a past. Will Madam Zelda help the ghost relocate? Will the Lodges stop arguing long enough to get their hands on the treasure map? Is the Professor who he claims to be? And who committed the murder? The murder? That's right—the murder! Someone will be ruthlessly murdered at the end of the show, and it's up to you to solve the crime!
Prizes will be awarded to the first people to correctly guess both the murderer and the motive.
Date:  Saturday, April 8th
Time:  Doors open at 6:30 to mingle with characters and get some "who dunnit" hints.  Showtime is 7:30 p.m.
Tickets:  $5.  Includes the show and dessert.
Location:  Osage School, 112 Somerdale Road, Voorhees.  Cynthia Watson Center (around the back of the school).